Let's Make Something Truly Special
At Engels Jewelry Company, our mission is to create the perfect piece of jewelry for you whether it be re-designing a cherished family heirloom or creating a one of a kind treasure for a lifetime!
The design process includes meeting with one of our design staff to share your ideas or help you create an idea and turn them into a jewelry design.  Then Mark Engels creates the CAD design and a wax mold is made. You will get to view and try on the wax mold and make changes or give the go ahead. Next, our goldsmith creates your designed piece of jewelry and we give a call as soon as it is ready!
All custom designing and work is done in-house from start to finish, in a timely manner, and within your budget.
Custom Engagement Rings & Jewelry
Each and every custom jewelry piece in our line is inspired by the many years of watching trends come and go.  You will find many different styles and settings, ranging in various sizes and colors.
If you don't see something in our collections that fits your style, let us know! We will make something that is truly unique; working hard to get you exactly the piece that you want.
All of our Engels Custom engagement rings come with a lifetime warranty; covering wear and tear, minor stone loss and more.
Pick The Diamond That's Right For You
In addition to our large inventory of jewelry and accessories, we also BUY diamonds, from .50 carat and larger. Engels Jewelry Co. buys, sells and trades diamonds of different cuts, color, clarity & carats. 
At Engels Jewelry Co., you can upgrade to a newer, bigger, and different diamond anytime you like, and for as long as you own it. If there is anyone that can find you the right diamond for your piece, it's us- We have been buying, selling & trading diamonds for over three generations and will find you exactly what you are looking for.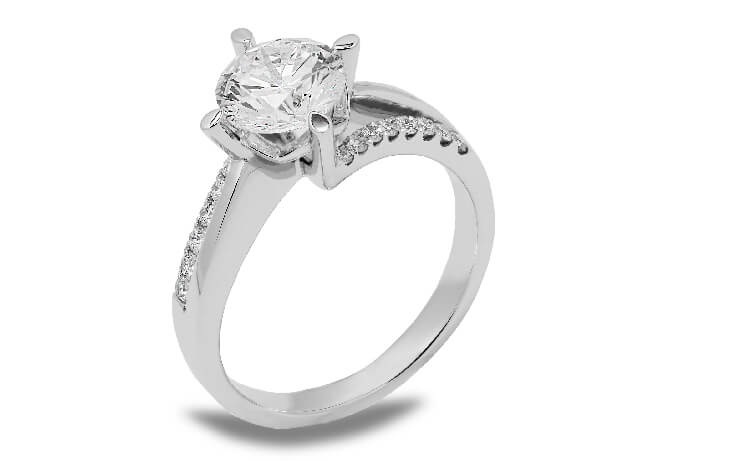 Timeless Designs Never Go Out of Style
Whether we are updating an older piece of jewelry or creating something completely new, we are more than happy to chat with you about any question you may have!
However, sometimes we can grow bored or unhappy with what they are set in.  Styles change. At the Engels Jewelry Co we work with many customers that bring in older rings and have us take out the stones and design a new setting for them.  We love taking what's old and making it new again. What can we Upcycle for you?
Keep in mind: if you don't see something in our collections that is for you, we will definitely make something for you that is unique; getting you exactly what you are looking for.
Meet Our Team – We're Here to Help!
Mark Engels
CEO / Founder
Carrie Anne Engels
CUSTOMER RELATIONS
Robin
Customer Service SPECIALIST
EMILY
Design & Construction